A few days ago I posted these flowers that I made on the
Cricut
message board. I had so many people asking for instructions and if they could be made with other cartridges that I put together the following tutorial on how to make them. These particular ones I posted were made with the Wedding
Solutions
cartridge, but for the tutorial I used
Plantin
Schoolbook, Accent Essentials, and Graphically Speaking. Hope you enjoy them!
The first step is to cut out your flower in 1/4 inch intervals. I starter these at 21/2 inches and went down to 11/2 inches. The dark pink are from
Plantin
, the
lavender
are from Accent, and the light pink are from Graphically Speaking.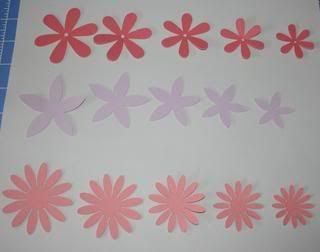 Next I inked the edges of each flower. I also inked the entire flower on the light pink ones.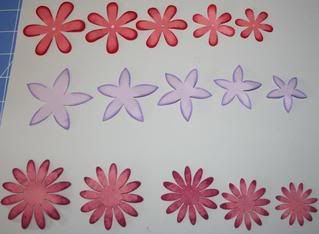 After you have inked the edges I used a bone folder to curl each petal.
The
lavender
and light pink have the petals curved up and the dark pink petals are curled under
Next I used Glue Dots to stick the flowers together. Making sure to turn each layer so that the petals alternate.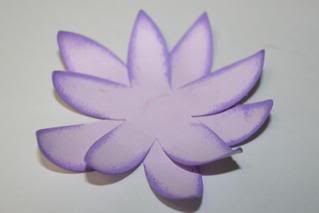 This is what the flower should look like when all the layers have been put together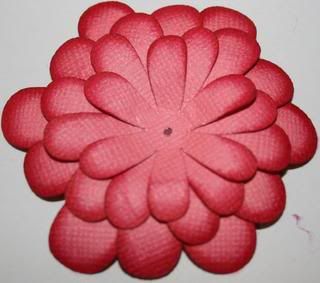 The light pink flower is a little more complex. To make the petals look right I squeezed them all together. Then fanned them out until it looked how I wanted it.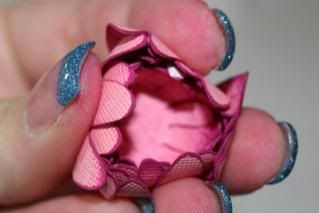 To make the centers for the light pink and
lavender
flowers I cut out three 1/2 inch circles and placed a glue dot in the center. then I
fringe
cut the edges and squeezed all the pieces together like the flower.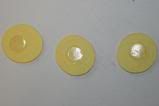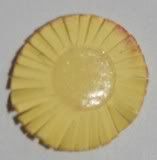 Next I used the end of my spatula to hold the center and ink the top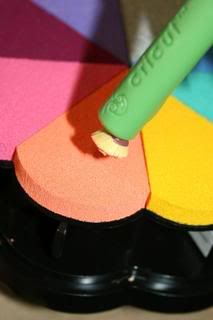 I placed it in the center of the flower and finished it with a little glitter in the middle